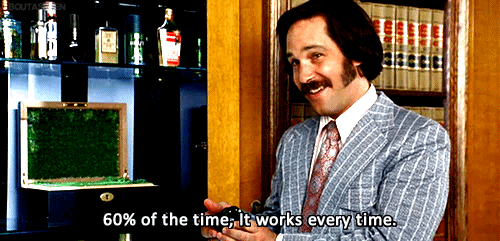 If you work in marketing, chances are that you've heard of influencer marketing. A lot. Influencer marketing is the practice of engaging Instagram/ social media sensations in product placement and content activation.
The rise of influencer marketing is in part due to the social media revolution, where consumers look towards their counterparts for purchasing decisions, the more famous the better. Frankly, that's nothing really new. The world has looked to celebrity endorsement and product placement for decades. However, with influencer marketing, the focus is placed on key individuals, who are thought to represent a particular target audience as a whole.
Last May Schlesinger Associates released a study reporting that 84% of marketing and communications pros were gearing up to launch at least one influencer-driven campaign within the next twelve months.
If executed well, influencer marketing comes across as subtle and authentic. But when it is done wrong, it's about as inconspicuous as a Kendall Jenner print ad for Estee Lauder. So how can you make sure that your next influencer marketing campaign is on point?
We have compiled 5 top tips below:
1) Develop Your Customer Profile Properly.  Who is she? What does she like to do? What is her voice? Based on that, you will choose the most accurate representatives for your brand.
2) Watch the Numbers. Influencers buy their audiences – so when you are choosing one, you have to watch closely for engagement, not following. This means that you're better off choosing someone with 3,000 followers with a high "like" and comments percentage, compared with someone who has 30,000 followers but has extremely low engagement.
3) Personalize the Message to increase your chances of a campaign ringing authentic, know your influencer, interview them – and tailor the messaging to their voice. For instance, Plugged – a headphones company – just released an influencer campaign with the hashtag #FindYourAnthem. For this campaign, each Instagram influencer was asked to post their own life-changing music moment – their own "anthem". That's a focal shift that will resound smoothly, and capitalizes properly on the trusting relationship between influencers and their audience.
4) Don't Mistake Celebrities With Influencers. An influencer marketer does not necessarily need to be someone famous. In fact, celebrity can actually hurt your brand (in the case of luxury, for example, any Kardashian endorsement baffles us). Instead, choose Micro Influencers – a subset of real experts in a category – whose audiences are based on that specific knowledge. A great example is Hodinkee – a watch-lovers' platform. Typically, micro-influencers would be industry experts whose voices are heard and heeded, regardless of the size of their audience. Even with smaller audiences, the message appears to be more relatable and authentic.
5) Pay Them. 84% of influencers accept monetary compensation for posts. Even if your brand is small or targets a very specific niche, you can make influencer marketing tactics work for you. Exposure doesn't pay the bills, and influencers rarely work with that any more. If you are asking for a lot of high quality content and engagement from your influencer team, pay for it.
As with any form of marketing today, above all, remember that you are marketing to marketers. Milennials can smell a sales pitch a mile away, so you have to make the audience the focus of your campaign message, and not the influencer. In How to Win Friends and Influence People, written almost a century ago, Dale Carnegie wrote: "Talk to someone about themselves and they'll listen for hours." In this sense, influence really hasn't changed much at all.